There are many different ways of approaching a live multitrack drum mix. Many prefer working track-by-track shaping the tone and impact of kicks, snare and toms using several plug-ins as they progress through their sessions. Others prefer starting at the other end of the mix by applying broad brush processing to shape the overall tone and impact of their drums at the sub-mix. Many audio engineers know this particular technique as top-down mixing. It's a cool technique, one you shouldn't shy away from as it can ultimately save you lots of time in a busy mix.
If you would like to know more about top down mixing then check out these articles from Logic Pro Expert Editor Eli Krantzberg…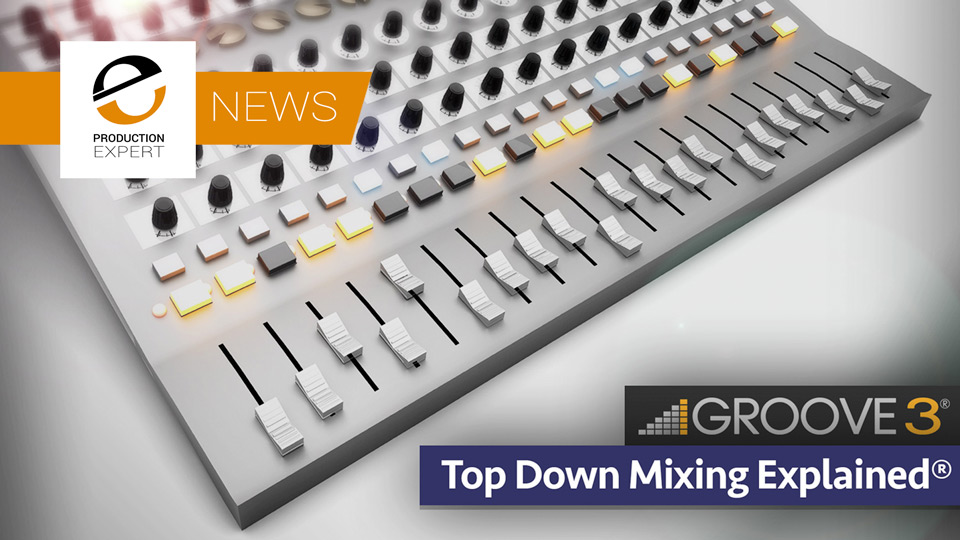 Ever wondered what "Top Down" Mixing is all about? Eli Krantzberg presents an in-depth video tutorial series on the mixing technique "Top Down Mixing" which is growing in popularity. Learn about the general principles used when approaching a mix from a top-down mindset, and how it forces you to focus on the bigger picture of the song and the music, rather than on specific plug-ins used on individual tracks.
With Black Friday around the corner, we are all no doubt salivating at the prospect of plentiful new inexpensive plug-ins to slap across all our Logic tracks in the hopes that a new shade of lipstick will make our music beautiful. It's a rabbit hole we all fall down to some degree or another.
I'd like to share with you an article I recently wrote with some mixing tips that start from a different perspective. Rather than looking at each track as a raw unfinished piece of the puzzle waiting to be painted and made up before the whole can be considered complete, top-down mixing takes a less is more approach. It's a different mindset where we try and use as little additional processing as necessary. rather than trying to use as much as possible.
How To Use Top Down Mixing For Drum Sub-Mixes
Setting up a sub-mix for top-down processing is super simple. Route out via a bus the individual tracks to the input of a stereo auxiliary track.
Example:
Set all the outputs on individual drum tracks to bus 3&4

Set the input of a new stereo auxiliary track to bus 3&4
Once routed, balance the individual track faders making sure you do not clip the aux by sending too much level from the tracks. When you have a static mix, you like the sound of, you can start top-down mixing simply by applying plug-ins to the sub-mix track's inserts.
The following dynamics plug-ins we suggest lend themselves nicely to top-down mixing a static drum mix. Some of these tools boast parallel processing, which can be useful for backing off the overall amount of processing applied as at times it can be easy to overcook it a bit. Others include some smart and easy to use dynamic multi-band tech which, if used tastefully, can help to bring a real sense of focus and depth to the sound of your drum top-down mixes.
Generic Plug-ins That Can Make Top-down Drum Mixing As Simple As Painting By Numbers
If the plug-ins we've suggested so far look a bit intimidating, then consider these plug-ins as they could suit your style better. The following generic plug-ins provide simple controls, which are described in ways that give us a sense of what kind of processing is taking place. As an example, a control in Waves Parallel Particles, named Thick, is an excellent control to adjust if you find your drum sub-mixes lack body. Magic, found in Infected Mushroom's Pusher is a useful control to dial in if you feel your drums need a touch of extra dynamic oomph.
The following plug-ins provide simple and creative controls useful for those new to the concept of top-down mixing.
Accusonus Beatformer is an all-in-one beat processing tool featuring four main intuitive controls that can be used to effortlessly shape the sound and character of drum sub mixes, loops and beats
Logic Pro Expert Contributor, Chris Vandeviver, reviews the newest offering from innovative upstart Mastering the Mix. In this review, Chris examines Animate, a unique plugin that takes expansion to a whole new level.
Made in collaboration with the EDM production powerhouse duo Infected Mushroom, Pusher provides an easy to use toolset of enhancer processors which enable users to quick impart sheen and weight to mixes. In this video we use Pusher to bring up the low mids in a mix as well as the overall presentation and vibe.
Made in collaboration with the parallel processing guru Andrew Scheps, Parallel Particles features four main tonal controls that together help to lift a mix gently and musically without resulting in mixes that sound touched or mangled. In this tutorial we feature a mix example which sounds great, however, it's lacking in the low mid department so we use Parallel Particles to quickly apply some energy and vibrance to help present the mix better.
In this free video tutorial, brought to you with the support of Wave, Pro Tools Expert Deputy Editor Dan Cooper shows you how to use Waves CLA MixDown plug-in on drums, piano and a full mix. The CLA MixDown plug-in is Waves' latest Chris Lord-Alge Signature Series plug-in that combines EQ, Parallel Processing & Drive all within one plug-in enabling users to glue and shape mixes together in transparent and toneful ways.
In short, top-down mixing takes a less is more approach. It demands a mindset where we try to use as little processing as necessary to get our instruments sounding good in a mix, rather than using as much as possible. The plug-ins we have suggested in this article are all very good tools to use for top-down drum mixing, though any combination of stock plug-ins in your DAW will also serve you well.
Is top-down your approach when you mix your drums? If so, what are your go-to plug-ins?
While You're Here You May Also Like...